---
Plasma structure and phosphors boost luminous efficiency (approx. 15%)*1 (PF series)
The new plasma panel structure has achieved 5,000,000:1*2 native contrast. From robust blacks to dazzling whites, images are faithfully reproduced with rich gradation and remarkable depth.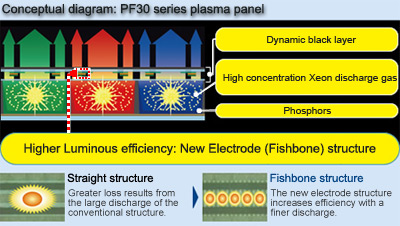 Native contrast of 5,000,000:1*1*2
To take maximum advantage of the inherently superior black expression of self-illuminating plasma displays, the newly developed panel allows the PF30 Series to emit light without the use of a pre-discharge. Its high contrast teams up with deeper black reproduction -- which forms the basis of image expression -- to render rich textures in images with subtle shading and colour differences.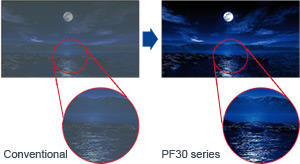 6,144*1 equivalent steps of gradation
The Panasonic PF12/30 Series achieves rich shading with 6,144 equivalent steps*1 of gradation in all scenes. It delivers richer gradation from brilliant whites to robust blacks, and faithfully reproduces the original textural quality of the video source.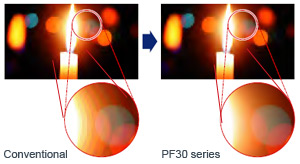 Full HD Moving picture resolution speed of 1,200 pixels/second*1 (1,080 lines)*2*3
The superb moving picture resolution of the plasma display panel ensures that even fast-moving action is displayed clearly with full detail and with minimum afterimages. Panasonic professional plasma displays deliver beautiful, high-resolution images from 1080p Full HD sources. Fast switching phosphors have increased motion image display performance to approximately 1.5 times*1 the speed of conventional Panasonic models. Afterglow has been shortened to approximately 1/3*1 the previous levels, so even fast moving images are displayed with excellent stability and minimal blurring.



Clear and sharp 3D images*1
When 3D images are shown on display devices that have a slow panel response, the left-eye and right-eye images often overlap to produce double images. In addition to incorporating fast-switching phosphors, the PF30 series features original light emission control technology that reduces double images and displays crisp, clear 3D images.



Dynamic images
Panasonic pro plasma display panels use self-illuminating pixels to provide more vivid colour and sharper images that never appear faded, even when viewed from an angle. Panasonic plasma displays deliver high-resolution images without losing the quality of the original video source.



HDTV standard colour gamut (approx. 110%*)
High-definition broadcasts are based on the HDTV standard, rather than the conventional NTSC (PAL) standard. With the improved properties of their phosphors, Panasonic plasma displays reproduce a wide colour gamut exceeding the entire colour range specified in the HDTV standard (ITU-R, BT.709). This results in a natural and faithful colour reproduction on a large screen. Digital colour reality technology also assures images with immaculate details.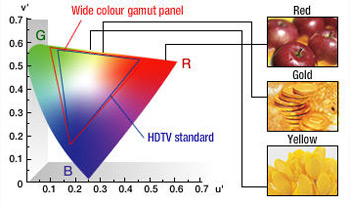 Digital video noise suppression
Noise reduction circuitry suppresses the block noise and mosquito noise that are specific to HDTV broadcasts and other digital video signals (MPEG video). This allows images to be faithfully reproduced in all their original beauty.



Block noise reduction
The noise reduction circuit detects and eliminates block noise that is generated when compressing motion images with an inadequate bit rate.



Mosquito noise reduction
The noise reduction circuit reduces mosquito noise that is generated when compressing motion images, particularly at the edges of characters and in parts where rapid colour changes occur.


Minimal maintenance
Cleaning is easy, as dust and dirt can be wiped off with a soft cloth when necessary. Panasonic plasma displays provide stunning pictures, have a long service life, and require minimal maintenance.

Long service life: 100,000 hours
With Panasonic plasmas, the beauty lasts and lasts thanks to a service life of about 100,000 hours.*1 That's an amazing 42 years of normal viewing (6.5 hours per day) or 11.5 years of continuous use (24 hours per day). Furthermore, the plasma display screen is covered by a glass panel for enhanced protection against impact and scratches.

Vertical mounting
Panasonic professional plasma displays can be positioned vertically to display portrait images, allowing them to serve as effective storefront signboards. There's no need to install an optional fan kit.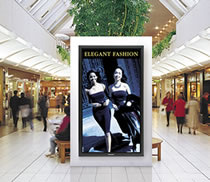 Tough body with impact-resistant front glass panel
The front of the plasma display is covered by a hard glass panel that provides strong resistance to impact and breakage, thereby providing extra assurance against damage when used in busy public spaces. It virtually eliminates any need for an additional protective cover.
---
Automatic picture positioning
This function automatically corrects the horizontal and vertical picture positions, clock phase, and dot clock when an analog RGB signal is input. The adjustment results in optimal standard values for the horizontal and vertical picture sizes.



Blend dual picture function (PF series only)
The Blend dual picture function overlays text information produced with a PC onto base motion images. It also enables superimposing of a motion image onto a text message. The transparency of the overlay image can be flexibly adjusted between 0% and 100%. This function makes it easy to produce subtitles without requiring expensive editing equipment.

Broadcast station usage

Monitor mode (PF series only)
This mode displays images without changing the brightness within the same signal level range even if the average picture level (APL) of the screen varies. Since this mode maintains white balance regardless of the size of bright areas in the image, it is suitable for use in broadcasting stations and image production studios in which precise colour reproduction is essential.


1:1 Pixel mode (PF series only)
The 1:1 Pixel mode maps the 1920 x 1080 video content to 1080p HD panel pixels to display 100% of the original content. By skipping the scaling process, this mode is able to produce high definition images in their original, 1:1 pixel form.

Note: 1920 x 1080 PC signals are always displayed in 1:1 mode.

Studio W/B mode
This lets you set the colour temperature that best matches applications in broadcast stations and studios.

Studio Gain mode
This mode increases the contrast to eliminate white out.


Digital zoom (4x)
This function lets you enlarge a portion of an image by up to 4x normal size and display it on the full screen. Use this function to give your presentations greater impact.

Note: Digital zoom does not work in Dual picture mode. Images of SXGA resolution or higher from a PC or RGB source may not enlarge correctly. Some degradation occurs when images are enlarged.

Dual picture mode
You can simultaneously display images from two different kinds of AV sources. Or, adding one of the optional terminal boards lets you display images from two of the same type of image source, such as two PCs or two DVD players. When displaying two separate images, you can select the audio output from either source. For example, playing back the audio from the sub-source can be useful in teleconferencing.

Note: Portrait zoom, multi-display and digital zoom functions do not work in dual picture mode


Advanced dual picture mode (useful in digital signage)
This mode lets you overlay a video image onto a full-screen PC image. For example, you can superimpose text information from a PC over a video clip, giving you a more effective way to present information.

Note: Combinations of two analog signals cannot be displayed.

Multi-display function
This built-in image-enlarging function makes it easier to set up multi-screen systems with as many as 25 displays (5 x 5 configurations).

This function lets you enlarge the image up to 5x vertically and horizontally independently, making it easy to set up a multi-screen system with up to five displays arranged either vertically or horizontally. For example, expand the image horizontally to 5x and leave it unchanged vertically, and you can create a system with five units side-by-side.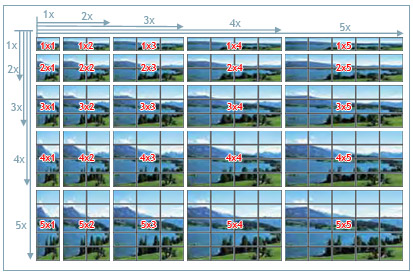 Note: Images of SXGA resolution or higher from a PC or RGB source may not enlarge correctly.



Digital banners utilize vertical space
Multi-screen systems can be easily configured to make effective use of the vertical space in locations such as entranceways and lobbies. These digital banners catch widespread attention with their unique combination of sophistication and visual appeal.



Display ID control
To prevent remote control errors that can happen when multiple displays are installed close together, each display in a multi-screen system must have a unique ID. Assigning a display ID assures reliable remote control operation.

Multi AI control function
By applying AI control to the entire input signal, using the same video processing as if it were a single-screen image, will help achieve uniform brightness over the entire image.

PJLink™*1 - Compatible network function for remote control
This network function lets you operate displays by remote control and monitor their status through a LAN connection. Since it supports the "PJLink™*1 Class 1" industry standard, existing infrastructure can be used for effective plasma display operation. You can also control the display from a web browser, *2 making it even easier to use. The network function also uses the same protocol as Panasonic projectors, so other video devices can be combined to upgrade the system.
Portrait zoom function - Enlarge*1 horizontal images for vertical display
By dividing the content from a video source into 3 vertical segments and displaying 1 segment on a vertical-position plasma display, a desired section of an image can be displayed dynamically. When 3 plasma display units are combined in vertical orientation, the entire image can be displayed dynamically on an extra-large screen.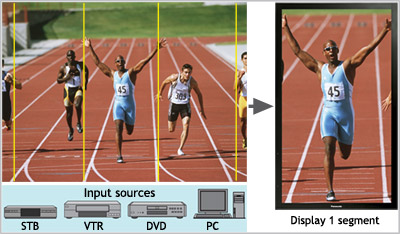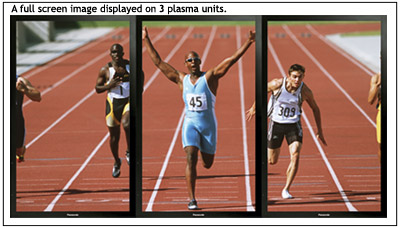 Picture profiles
The picture adjustment values set using the Picture menu and advanced settings can be stored in the display's memory as profiles. Up to eight combinations can be stored, and the preferred profile can be selected to match the video source being used.
Text overlay function
The RS-232C interface enables you to overlay and display text onto video images. The display position, text and background colours, and text size can be set. For example, this is an excellent way to entertain customers with soothing background video while also providing them with text-based information. When used in combination with the Weekly command timer, text can be registered in advance and displayed at predetermined times, making it ideal for digital signage applications.

Video off mode (hide seams)
There is also a mode that displays a full-screen image, including the edges (the width of the frame) of the display panel. This is especially suitable for displaying text information, since no words are hidden by the frame.



Weekly command timer
This function makes it easy to automate display operation so there's no need to use an external scheduler. You can set a variety of operations - power on/off, image source selection, screen saver functions and more - to activate at specific times on specific days of the week.
---
Energy-saving functions
A broad range of environment-friendly functions help minimize energy consumption.



DPMS (Display power management signalling)
Power is automatically turned on or off in response to a sync signal from the PC connected to the built-in PC input terminal.


Auto power off
When you're using a device connected to one of the multi-function slots, the display panel goes into stand-by mode after approximately 10 minutes if no sync signal is received.


Power save mode
Reduces the display's brightness.


Stand-by power save mode
Reduces power consumption when on stand-by. (Start-up may take a few moments once the display is in this mode.)



Enhanced screen saver functions
A variety of screen saver functions help lower the risk of uneven phosphor aging.

NANODRIFT SAVER
The new NANODRIFT SAVER reduces image retention five times*1 more effectively than previous systems. It uses smooth, fine image movement to minimize the possibility of image retention without blacking the view.

Overlay scrolling bar
The brightness of the image will be decreased and a white bar will scroll on it.


White screen
White will be displayed on full screen.


Side panel adjustment
Brightens the black bands on the sides of the screen when displaying images in the 4:3 format.


Wobbling
Shifts the image's position by several pixels at fixed time intervals or according to the detected screen condition.


Peak limit mode
Lowers the peak brightness level (image contrast).


Negative image
A negative image will be displayed on the screen.


Scrolling bar only
A white bar will scroll from left to right. The image won't be displayed.